PEVSNER: BUILDINGS OF ENGLAND, SURREY, 2nd E. 1971
But the most ornate Surrey interiors of c. 1640 belong to yet another type of house – that put up in the style of Inigo Jones but not strictly in imitation of him. At Ham House big alterations were made in 1637-8, consisting of plaster ceilings of Inigo Jones type – accurately carved, not rough copies – and a splendid staircase and long gallery. The staircase has the whole of a flight treated as one ornamental composition, an idea which was slowly developed during the Commonwealth and which became almost universal after 1660. Usually the composition was made up of flowers and fruit, but here the panels are of military trophies and the staircase consequently has an urgency and a braggadocio which has gone from the smoother later examples. The long gallery has a recurring motif of delicate yet crisp pilasters, and is spatially one of the best rooms of its date in the country, the realisation in strictly architectural terms of what Jacobean long galleries like Hardwick or Blickling did through sheer size and through atmosphere. These houses have been described at some length – but after all this is the first point at which Surrey makes a contribution to the history of English architecture as a whole. What happened to the style after 1640 is a perfect illustration of the hit-or-miss pattern that makes English provincial architecture such an exciting bran-tub. The driving force had gone, and the result was first a few modest but attractive farms and cottages (Brook Place Chobham 1656, Manor House Ripley 1650, Crossways Farm Abinger) using shaped gables and other mannerisms. The style was particularly happy on this scale, but after the Restoration it declined into deplorably rough and overloaded brickwork, principally at Godalming, but also at Dorking and Farnham (the original parts of Bailiff's Hall). This is simply a style on its deathbed.

CROSSWAYS FARM, A first-rate C 17 vernacular farmhouse, the main front facing B with a central gabled two-storeyed porch and thick brick cornices and string courses in Artisan style. The main cornice is thickened above the keystones, as at West Horsley Place. Several of the windows have the Dutch mannerism of curved relieving arches above the windows with flat tops ( cf. Ripley, Godalming, etc.) – here with the flat central section slightly dropped below the rest instead of raised above it A good set of BARNS on the N side, in the familiar tile and tarred weatherboarding, here combined with Wealden stone.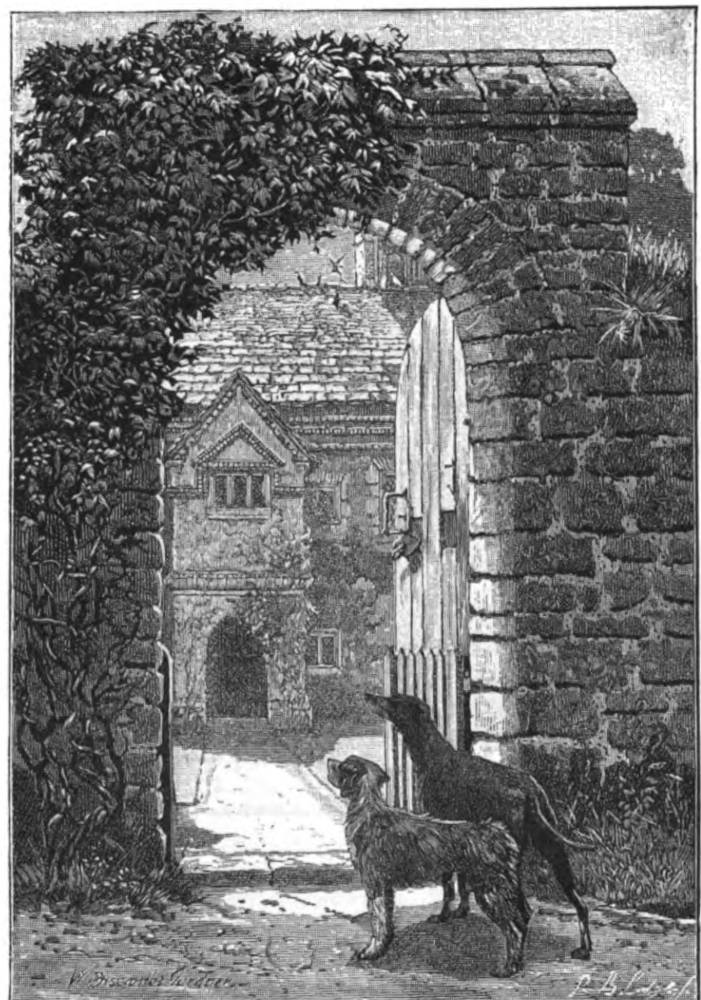 The house is a listed building (Grade II*). Below is the listing text, from 1966.
House. 1610. Timber framed, clad in sandstone blocks, some galleted, with brick dressings, frame exposed on right hand return front with render and brick infilling, sandstone rubble ground floor cladding to rear with square stepped-end tile hanging above. Horsham slab roofs. Centre, lobby entrance plan with service wing, half the width of the house, at right angles to rear right. Two storeys on plinth with moulded brick coping, brick cornice over ground floor and fine, deep, brick dentilled eaves cornice above. Stack to rear left of centre and very fine multiple stack to rear right of approx. 30 feet in diameter with corbelled top and arched panel decoration on shaft. Regular front with two outer, 8-light, diamond­pane, leaded casement windows to first floor in brick surrounds. Brick keystone heads rising up to form dosserets in eaves cornice. One 2-light window either
side of entrance porch on first floor. Outer 3-light windows on ground floor under 4-centred, brick keystoned relieving arches. Central gabled two storey porch with cornice over ground floor. Three-light diamond-pane window to first floor, under brick-dentilled lintel continuing as stringcourse, and dentilled pediment above. Bargeboards and pendant finial to gable. Round-arched keystoned porch entrance below to panelled C17 door in chamfered and moulded wood surround. Hipped and gableed wing to rear, possibly older, with tall stack and 4-centred arches over doors and windows.
Interior:- notable mainly for the staircase, a massive central stair boxed in with sturdy carved newels, chamfered angles, and balusters.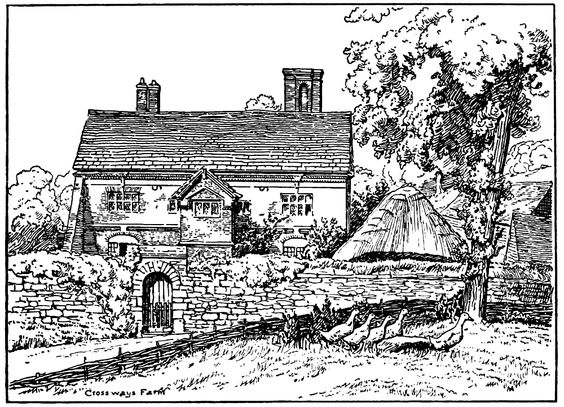 The 'Great Barn' is Grade II listed. Text as follows:
Barn. C17. Timber framed on galleted ironstone rubble and brick plinth with weatherboarded and corrugated iron cladding below plain tiled roof. Six framed bays with large entrance to left under gabled midstrey.
lnterior:- Aisles to north and south. Queen-strut, clasped-purlin roof with braced main posts. Further barn at right angles on left end, facing the road. Rubblestone plinth walls, timber framed above with plain tiled roof. Four framed bays. Queen-post roof.